A restaurant with free-spirited cuisine defines its brand with intention and authenticity.
Zeb Stephenson, an acclaimed and renowned chef, envisioned his first restaurant as something welcoming, comfortable, and creatively free-flowing. Above all, he wanted to make people happy with food.
For the Redbird team, simplicity and energy were critical ingredients for making the brand. Their passion had to be captured by approachable and hand-rendered elements, just like their cuisine.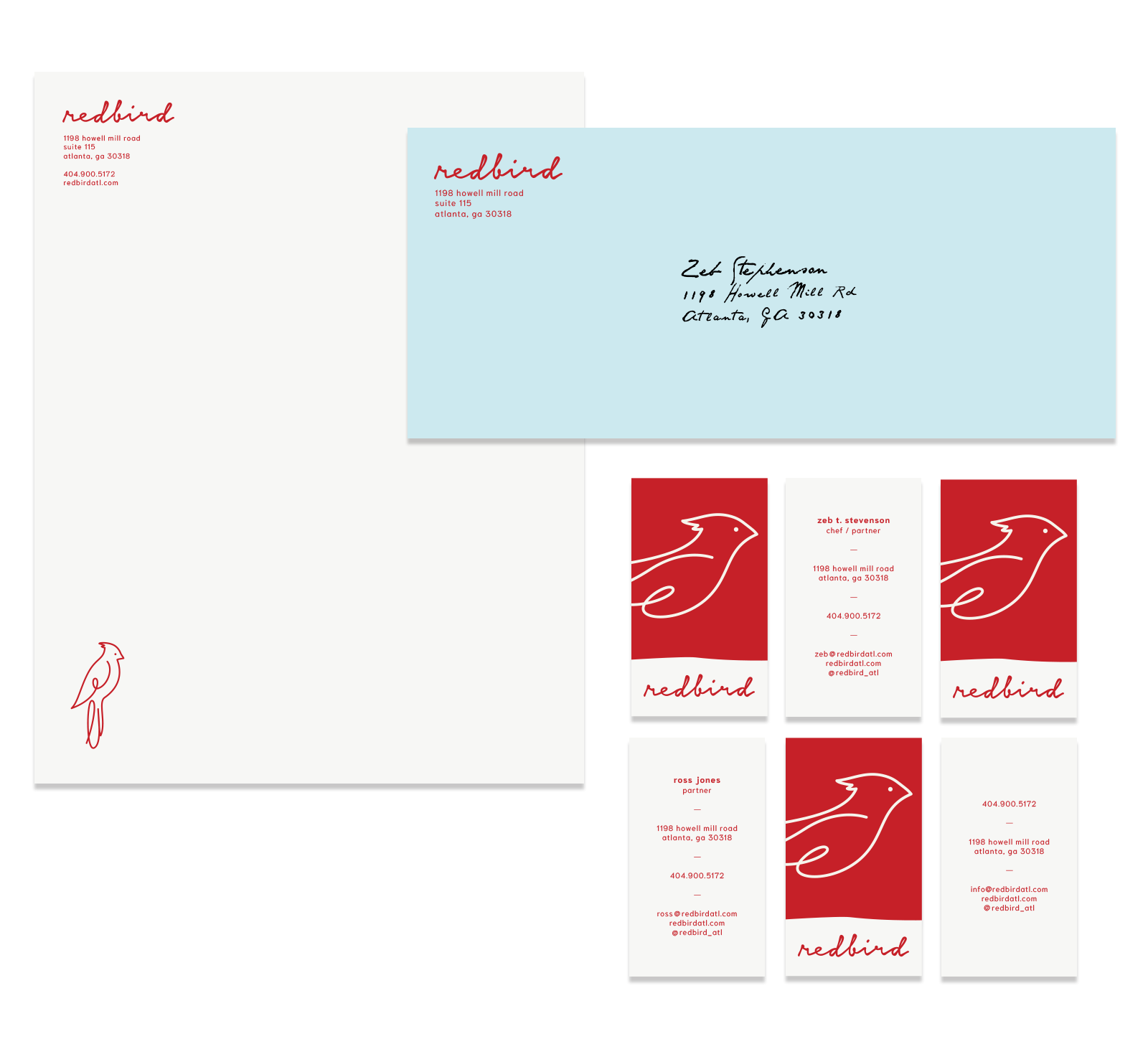 Tell me more, tell me more, tell me more.
Through conversations with Zeb, we began to identify what cooking means to him, how he wanted people to experience his food, and how he approaches the act of creation. His responses directly helped me develop the brand purpose, brand position, and brand personality, as well as how the visual identity should represent the restaurant.
Does it swoop or does it sweep?
Craftsmanship is extremely important to Zeb, and he welcomes everything that comes with a handmade process, especially the nuances that reveal the artist's touch. The logo explorations began with scripts and brushed letterforms, but options with set typefaces were also shared to show the spectrum of possibility (and to eliminate what didn't work).




How would your brand dress?
Another exercise to help select the logo involved seeing how the brand might look using specific styles. These experiments in aesthetic approaches were based on various inspirations that resonated with Zeb.





How ya like them apples?
Once the logo was chosen, we went through different iterations of the stationery, trying to refine what felt best.
What's on the menu?
The piece of collateral that was the most important was the menu. The menu is the crux between what the restaurant offers and what the customer wants. The most challenging aspect of designing the menu is that it could change instantaneously, depending on ingredients and creative inspiration. On top of that, the menu would need to be changed by managers and cooks, people who wouldn't necessarily be familiar with design software. So, we had to create a template that was easy to update in word-processing software and was as foolproof as possible. These first few experiments helped to simplify the menu and to highlight what was important, from the hierarchy to the ease of use.
brand development included: brand ethos, visual identity, stationery, menus, mural installation